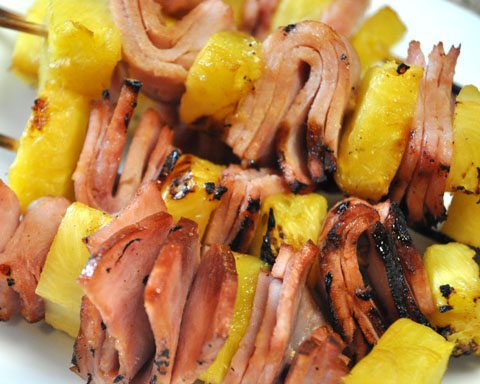 Dear Reader-
When I saw this recipe in Gooseberry Patch's Meals in Minutes I had one of those "Why didn't I think of that?" moments…
Confession Time… the first time I made this, I chose to use fresh pineapple… and well, that led to an interesting… um… texture change to the ham… and by "interesting" I mean gross.
That is when I asked google what the heck happened and google said "bromelain happened"…
Fresh pineapple contains bromelain and bromelain is a natural enzyme that… breaks down meat…
Which is a great meat tenderizer for tougher meat, but for my spiral ham… um… not so much.
The solution? Pre-heat the pineapple and it deactivates the bromelain.
The second time I made it, I threw the pineapple chunks in the microwave for 30 seconds and then grilled it and the ham was perfect.
Note: Canned pineapple shouldn't have this problem.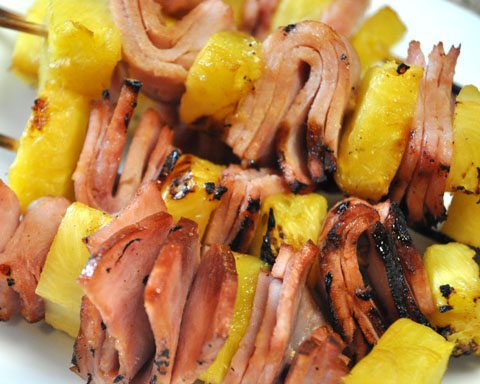 Now we have had these several times since the first time… sometimes we baste them with the sauce, other times we just have them plain.
Regardless of how we serve them up, we love them!
Enjoy!
Adapted from Gooseberry Patch's Meals in Minutes. For more Food and Fun, visit GoodenessGracious.com
Ingredients
Ham cubes (or slices)
Pineapple (pre-heat if fresh)
Skewers
1/4 Cup Pineapple Juice (pre-heat if fresh)
2 T Soy Sauce
2 T Brown Sugar
Ginger to taste
Instructions
Place ham and pineapple on skewers.
Mix juice with remaining ingredients.
Marinate for 2 hours.
Baste on the grill
Grill until heated through
http://goodenessgracious.com/2012/04/ham-pineapple-kabobs.html