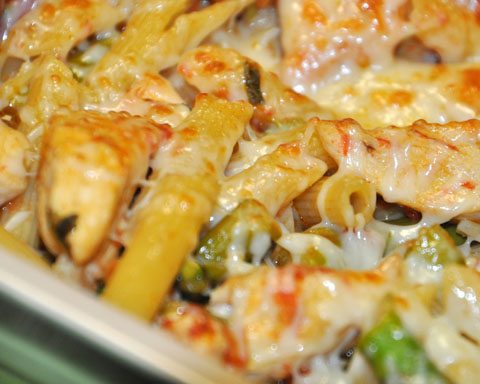 Dear Reader,
I am sorry I have been away… the world has been a little crazy lately. But, I think I am back at it now and I have a yummy recipe you are sure to love… Basil-Asparagus Penne.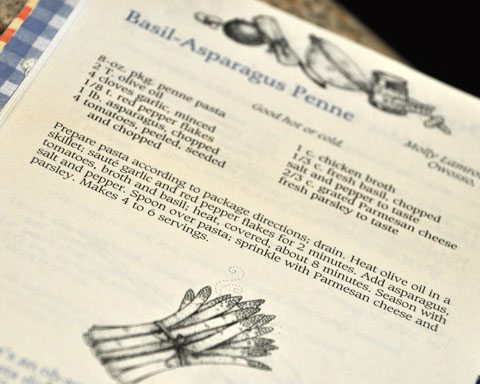 I found the recipe in Gooseberry Patch's Meals in Minutes and tweaked it a bit to fit my family's tastes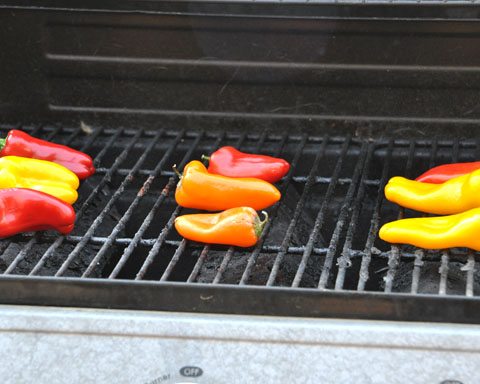 I started by throwing some sweet peppers on the grill.  You could use bell peppers if you'd like.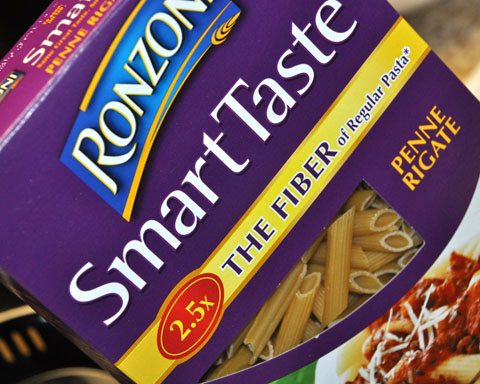 I also popped a box of Penne in the microwave and cooked it to al dente.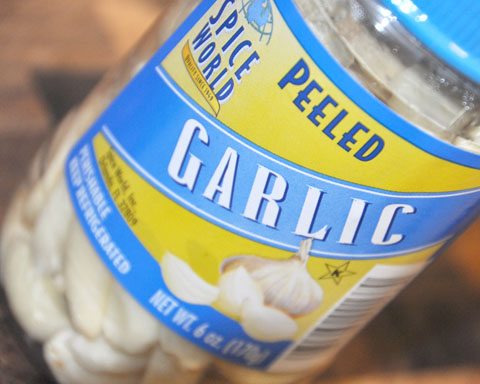 Meanwhile, I heated 2 Tablespoons of Olive Oil and added 4 Cloves of Minced Garlic.
As you can see below, I got mine a little toasted too far… had my oil too hot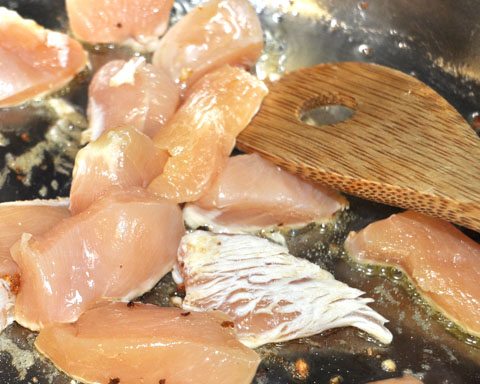 I then tossed in a pound of cubed chicken breasts to beef…er… chicken it up.
I cooked the chicken until the juices run clear…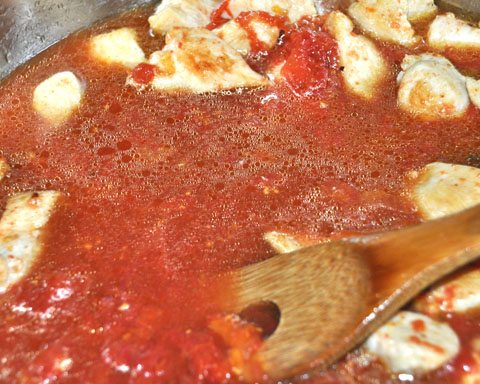 I then added 32 oz of Canned Tomatoes with the juices and 1/2 Cup of Chicken Broth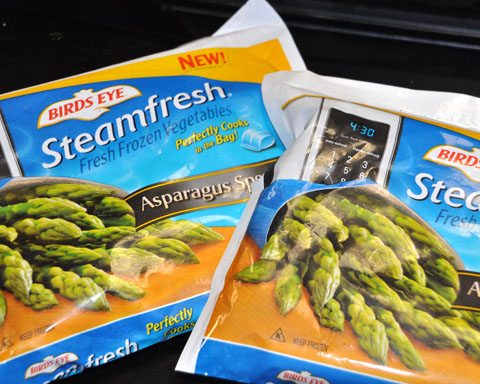 Meanwhile I steamed a pound of asparagus in the microwave and then added it to the pan.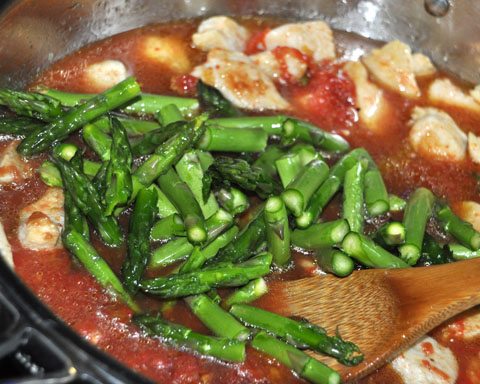 And 1/3 Cup Chopped Basil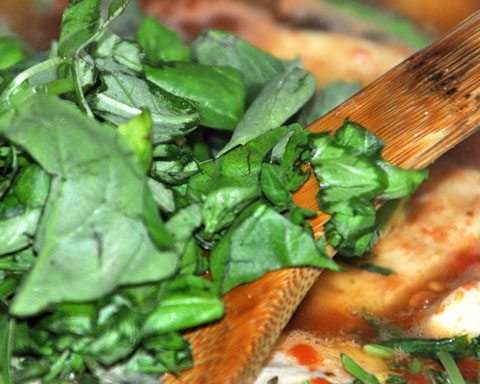 Now add in those grilled peppers after you peel them.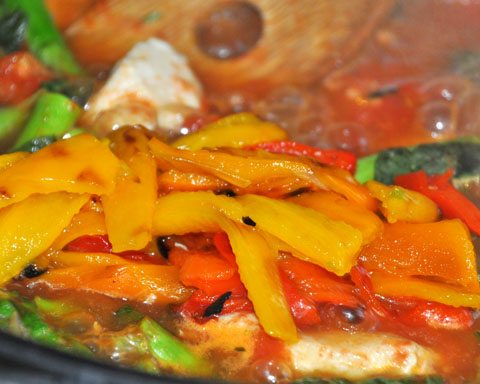 Now pour your cooked pasta into a 9 x 13 pan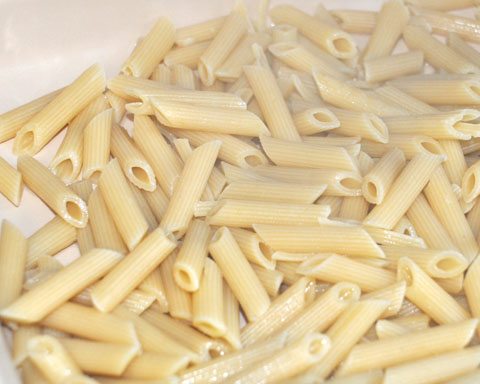 And cover with the chicken mixture and mix.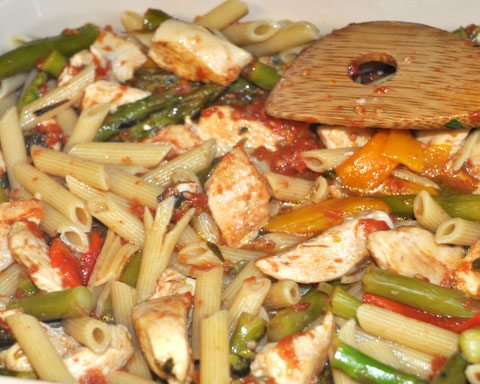 And top with 2/3 Shredded Parmesan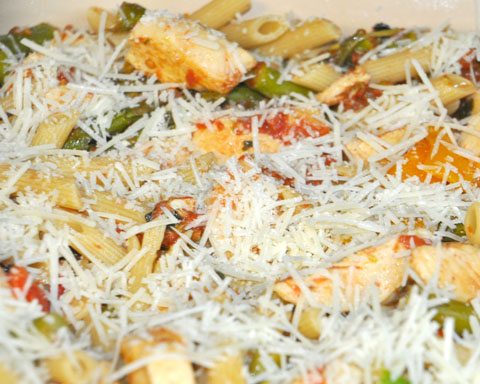 Broil for 5 minutes until perfection.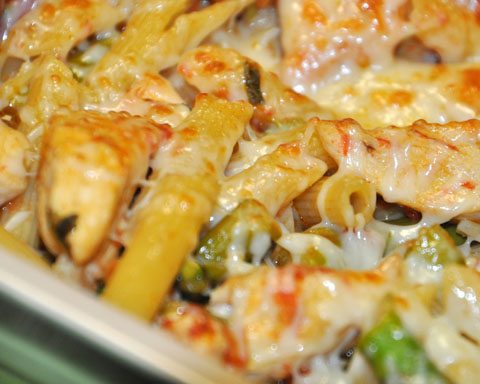 Yum!
Recipe adapted from Gooseberry Patch's Meals in Minutes. For more food and fun, visit GOODEnessGracious.com.
Ingredients
2 T Olive Oil
4 Garlic Cloves Minced
1lb Cubed Chicken Breast
32 oz Canned Tomatoes
1/2 Cup Chicken Broth
1 lb Asparagus- Cooked
Grilled Sweet Peppers- Peeled (To Taste)
12 oz Smart Taste Penne (Cooked and Drained)
2/3 Cup Shredded Parmesan
Instructions
Heat oil and cook garlic for 1 minute
Add cubed chicken and cook through
Add tomatoes and broth
Add asparagus and peppers
Place cooked pasta in a 9 x 13 pan and pour mixture over the top.
Mix well and cover with cheese.
Broil for 5 minutes
http://goodenessgracious.com/2012/05/basil-asparagus-penne.html
Note: Affiliate links and meat were used in this post… cause Meatless Mondays don't fly in this house… just sayin'