Miss Add told me today that she wanted to share her "Famous" Hot Chocolate Recipe with you!
Yes… My kid loves to drink Hot Chocolate in the middle of August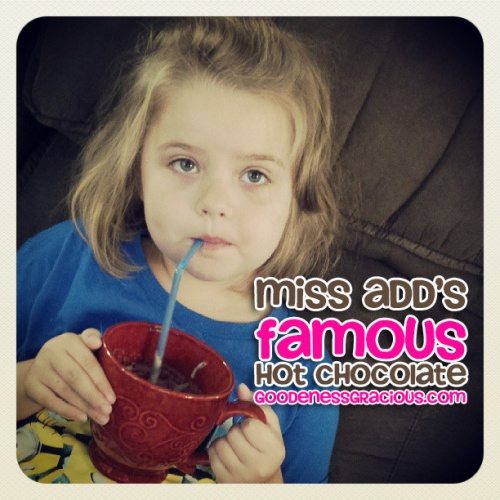 Why?
My guess is that her reasoning is two-fold.
First and foremost hot chocolate contains two of her very most favorite ingredients… chocolate and marshmallows.
I'm not sure which she loves more.
Chocolate is a given, but the other day she found some Easter peeps WAAAYY past their prime and you would have thought that I shot a unicorn or something when I took that candy from my baby.
The second reason she loves it so much… in August? Ms. Newly Independent -I Am Six Years Old Now can add this to her growing list of recipes she can make all on her own. And she is sooo proud (and her mama is too

).
I just love that she LOVES being in the kitchen as much as I do. It comes with its perks too!
The other night I was cooking up several dishes and as luck would have it, the gravy needed stirrin' at the exact precise time as the biscuits needed to come out of the oven. Miss Add to the rescue! She stirred that gravy just right with a huge grin from ear to ear the whole time. (Her mama might have been a smilin' too.)
Anyhoo… Back to the Hot Chocolate…
Regardless of why she loves it, Miss Add wants you to know that her recipe includes "three easy steps" to the perfect hot chocolate.
Check it out!
Miss Add's Famous Hot Chocolate Recipe
My Six Year Old's Recipe for the Perfect Hot Chocolate!
Ingredients
1 Bottle Chocolate Milk
Marshmallows
1 Straw
Instructions
Follow these three easy steps to get Miss Add's "Famous" Hot Chocolate
Pour out a bottle of "Ice freezing cold chocolate milk" into a mug
Heat for 60 seconds (or minutes if you prefer) in the microwave
Add Marshmallows and a Straw
http://goodenessgracious.com/2013/08/miss-adds-famous-hot-chocolate-recipe.html